How to Get to Sleep
4 August 2015 | Alex
If you are one of those people who find that they're tossing and turning every night, struggling to doze off, we've got you covered. How to get to sleep may seem like a mysterious question for which there is no answer but in reality there are myriad solutions to this puzzle. To help ensure that you're getting the rest that you need, our experts at Sleep Apnoea Services have compiled a guide including our Top 50 Tips for Sleeping Better.
These tips are not all about spending lots of money on fancy gadgets that may or may not work; nor are they concerned with pushing a number of sleeping tablets that'll knock you out. Our guide helps you to get more sleep and sleep that is of a higher quality. Including mental tricks for shutting down at the end of a stressful day, tips for making your room as comfortable as possible and advice for those with partners who are disturbing them, our guide really can help everyone struggling to sleep.
Downloading our guide to how to get to sleep couldn't be any easier — simply enter your details in the form below and it'll be sent to you instantly. It's that easy and what's more, it's absolutely 100% free!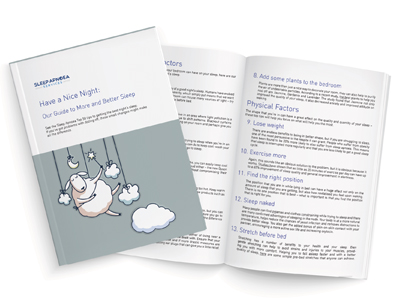 Enter your information into the form below to begin.